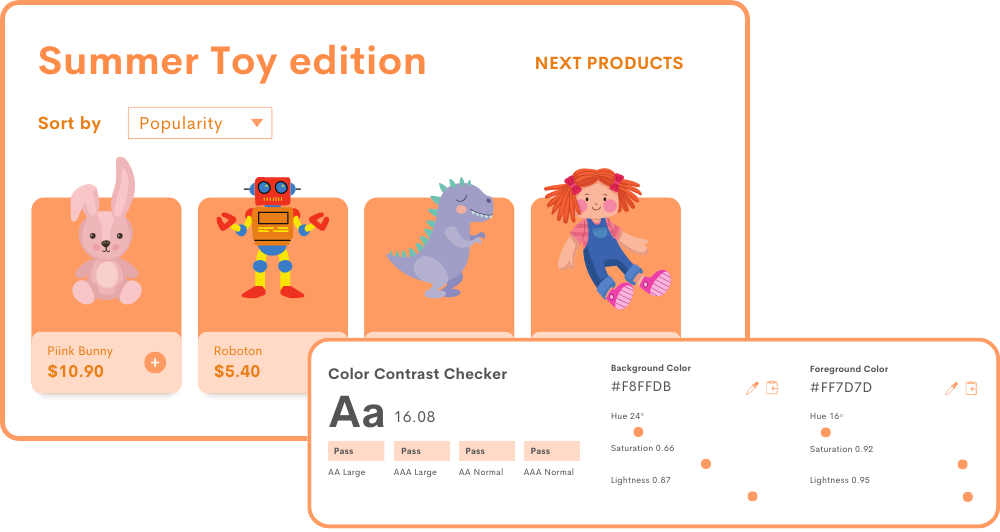 Digital Accessibility
Unlock valuable insights into customer behavior, preferences, and needs to make Data-Driven Decisions that Enhance the Customer Experience, Drive Conversions, and Boost ROI.
Benefits
Save Time
Instantly capture and analyze behaviors as they happen in real-time.
Enhanced User Experience
Gain comprehensive customer insights for a complete understanding.
Boost Revenue
Identify emerging possibilities to drive revenue growth
Customer Satisfaction
Remove barriers and delight customers with effortless interactions.
Pinpoint and Resolve Bugs
Effectively address, troubleshoot, and resolve problems for prompt resolution.
Privacy-Driven Integration
Prioritize privacy and secure integration for driving continuous innovation.
Clear Customer Journeys with Perceiving Visualizations
Track and analyze every touch point customers have with your brand, unlocking valuable insights for optimizing the entire customer journey that drives growth.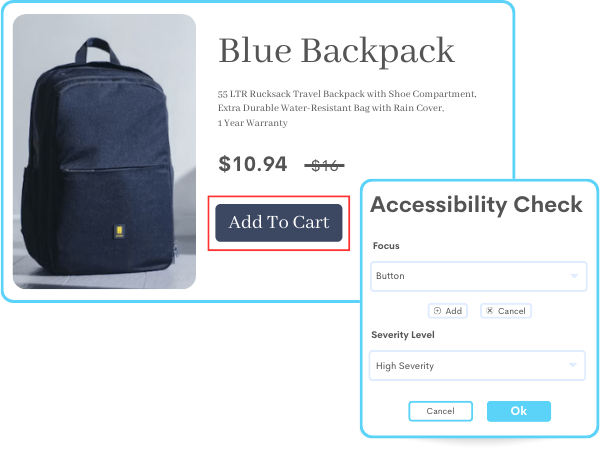 Decode Digital User Preferences
Gain insights into the preferences and needs of users with disabilities to tailor digital content accessibility and services to meet those needs better.
Visualizations for Accessibility: Watch visual representations with accessibility features to understand how users with disabilities navigate and interact.
Quantitative and Qualitative Data: Dive deeper into user preferences, pain points, and opportunities for improving accessibility.
Inclusive User Feedback: Provide accessible mechanisms, such as surveys or feedback forms, to identify accessibility pain points.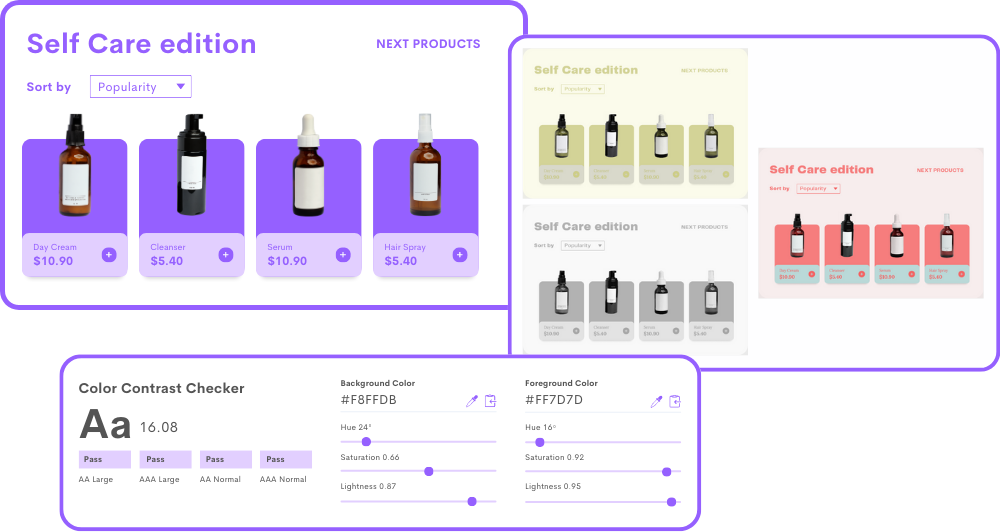 Break Down Digital Accessibility Barriers
Address digital accessibility barriers such as low contrast, missing alternative text for images, or inadequate keyboard navigation.
Continuous Accessibility Audits: Identify and address any potential barriers within its platform with accessibility standard (WCAG) 2.1 Level AA.
User-Centric Design: Prioritized insights on the needs of diverse users by involving disabilities in the design process.
Integration into Development Process: Gain intuitive insights to promote a proactive approach, reduce barriers, and create a more inclusive digital environment.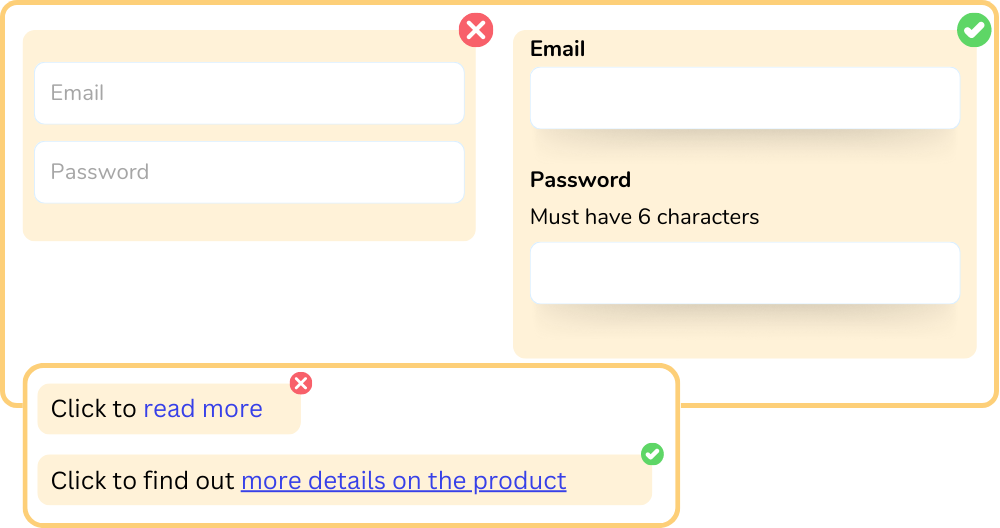 Boost Usability to New Heights
Improve the overall usability of digital content accessibility, such as clear and consistent navigation, well-structured content, and easy-to-use forms and interfaces.
Accessibility Insights: Track user interactions, such as screen readers, keyboard navigation, or alternative text descriptions.
Accessibility Testing: Conduct accessibility testing that uncovers issues to enhance the user experience for individuals with disabilities.
Segmentation based on Accessibility Preferences: Identify user segments that prioritize specific accessibility needs of different user groups.
Frequently Asked Questions
What is digital accessibility?
Digital accessibility is the concept of making digital content and services accessible to all individuals, including those with disabilities. It involves removing barriers that may prevent people with disabilities from effectively accessing and using digital platforms. This encompasses various aspects, such as website design, user interfaces, multimedia content, and document accessibility.

To achieve digital accessibility, websites and applications are designed and developed with inclusive practices. This includes implementing features like alternative text for images, captions for videos, keyboard accessibility, and clear navigation structures.

By considering the needs of individuals with visual, auditory, physical, and cognitive disabilities, digital accessibility ensures that everyone can perceive, operate, and understand the digital content.

Promoting digital accessibility is crucial as it upholds principles of equality, inclusion, and diversity. It ensures that people with disabilities can access information, engage in online activities, and utilize digital services on an equal basis with others.

By creating accessible digital experiences, organizations can reach a broader audience and provide equal opportunities for individuals with disabilities to participate fully in the digital world.
What kinds of accessibility issues can a digital accessibility analyzing tool identify?
Session recording
is a software activity aimed at capturing website users' behavior. The recordings will contain all sorts of activities on the website, like the movement of the mouse, the number of taps and clicks, the scrolling action, the number of pages visited, which device it is being operated on and much more.
Can I watch my website visitors with the session replay tool?
Yes! That is what session replay tools are designed for. You can watch all your website visitors' user behavior. You can watch from their entry through a landing page and till they leave through an exit page.
Is ReplayBird difficult to set up?
No. It is totally easy to install and set up.
What is the main purpose of session replay?
The main purpose of the session repla is to give a recorded website version from customers; the point of view to track errors increases the conversion rate and improves the website's user-friendly design.
What are session replays? How are they different from session recordings?
Session replay is the action of replaying the recorded session from a session replay tool to observe the user's behavior. Session recording and session replay are two different actions of the system. When the session is being recorded by the session recording tool in real-time it is called "session recording." After the recording part of the session, they are saved to replay anytime. The watching of the saved recordings is called session replay.
Is session recording legal?
It is legal to session record your users' behavior on your website.
Session recording software allows you to record your users' behavior. It includes data about each visitor to your websites, such as their IP addresses, referring sites, and site activity.
GDPR
allows session recording tools if they acquire client agreement. You must, though, ensure that your clients understand what these technologies accomplish and how they use their data.
How does session replay capture user experience?
Replay tools record data about users' activities with your website or application, such as the sites they visited, how long they remained, and what they clicked on. These technologies use this information to build anonymized versions of user sessions that your team can view on demand.
How do you analyze ReplayBird Session replay?
ReplayBird has filters for you to make your search easier. You can search by location, issue, error, time duration, and many more. Or you can even analyze your recorded session with segmentations.
Is it easy to get started with session replay?
Yes! All you have to do is to add a few lines of code into your website's code, as per the instructions.
1. First,
sign up
to ReplayBird for a free trial.
2. Secondly, Add your first and last name.
3. Place the URL of your website or web app in the field.
4. Choose where you want to install ReplayBird and get your Recording code or User ID code.
5. Verify installation.
Does ReplayBird have any session recordings storage limits?
You can access unlimited storage for up to 6 months for growth and premium plans and for 3 months for basic and growth plans.
Stop guessing what your visitors want.
Playback everything visitors do on your site.
Watch visitor behavior
Watch movements of your visitor's using session recordings.
Notes, Segments and Tags
Add notes, segments and tag to your recording for easy identification.
Easy Installation
Installation is quick and simple using a javascript tarcking code.
Performance monitoring
Assess your site's user experience and uncover areas for improvement.
Unlimited team members
Invite all your team members and clients at no added cost!
Block IPs
Exclude tracking yourself, your team or clients by blocking their IPs.
Share
Share notes and website recordings to your fellow mates.
User Identify
Track users to identify which users are having bad user experience.
Audit Logs
See security audit logs for your projects and accounts.
Start using
ReplayBird

for free now.

Understand your customers in real-time.