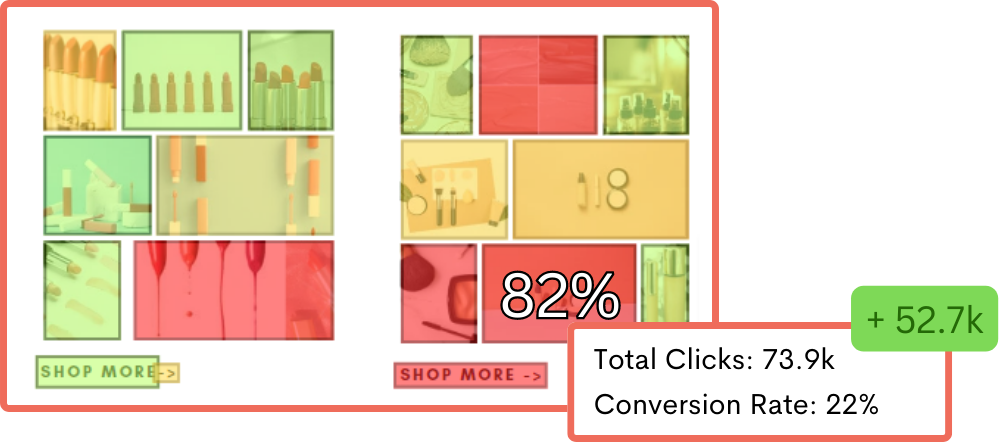 Interaction & Heatmaps
Understand how users interact with each element on your website to optimize your website for user engagement and conversions. Uncover which elements on a website receive more attention, which receives the most clicks, and the content that causes users to leave the website.
Benefits
Save Time
Instantly capture and analyze behaviors as they happen in real-time.
Enhanced User Experience
Gain comprehensive customer insights for a complete understanding.
Boost Revenue
Identify emerging possibilities to drive revenue growth
Customer Satisfaction
Remove barriers and delight customers with effortless interactions.
Pinpoint and Resolve Bugs
Effectively address, troubleshoot, and resolve problems for prompt resolution.
Privacy-Driven Integration
Prioritize privacy and secure integration for driving continuous innovation.
ReplayBird Exposes What Attracts Your Audience
Identify areas for improvement, reduce friction in the customer journey, and provide a better user experience.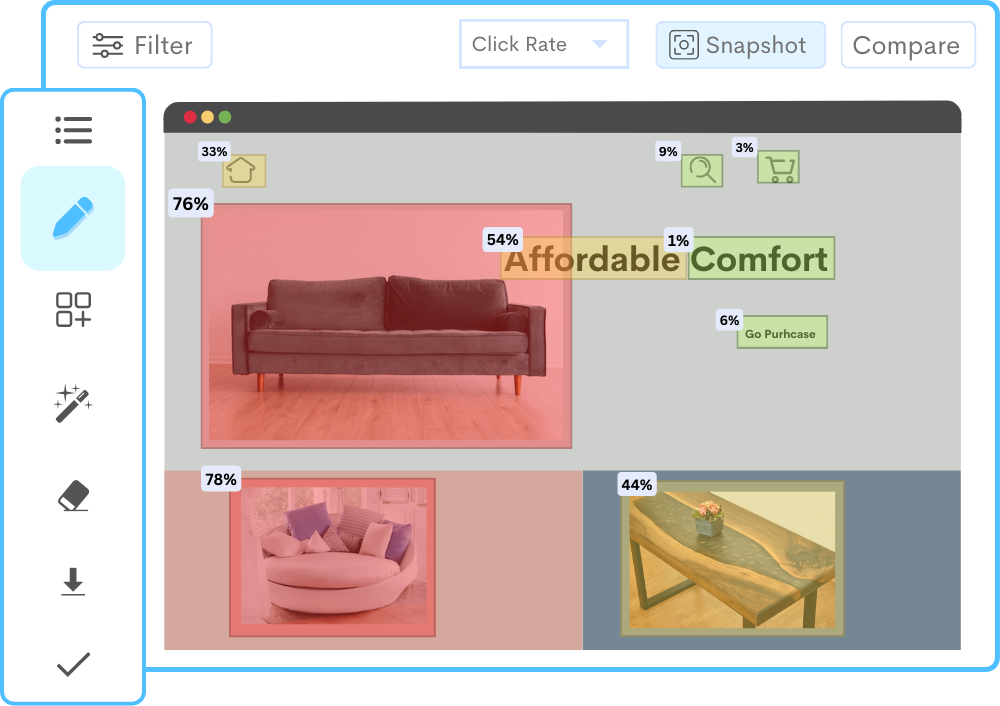 Maximize Engagement that Improves Navigation
Visualize how users interact with your website to identify high and low-engagement areas that create a positive user experience leading to increased conversions and business growth.
Discover Engagement Opportunities: Unleash areas where users spend the most time, where they click the most, and where they scroll the most.
Remove Obstacles: Eliminate elements that are causing users to lose interest, such as confusing navigation or irrelevant content.
Improve Navigation: Get users to easily navigate your website and find what they are looking for; they are more likely to convert, leading to increased revenue and higher customer satisfaction.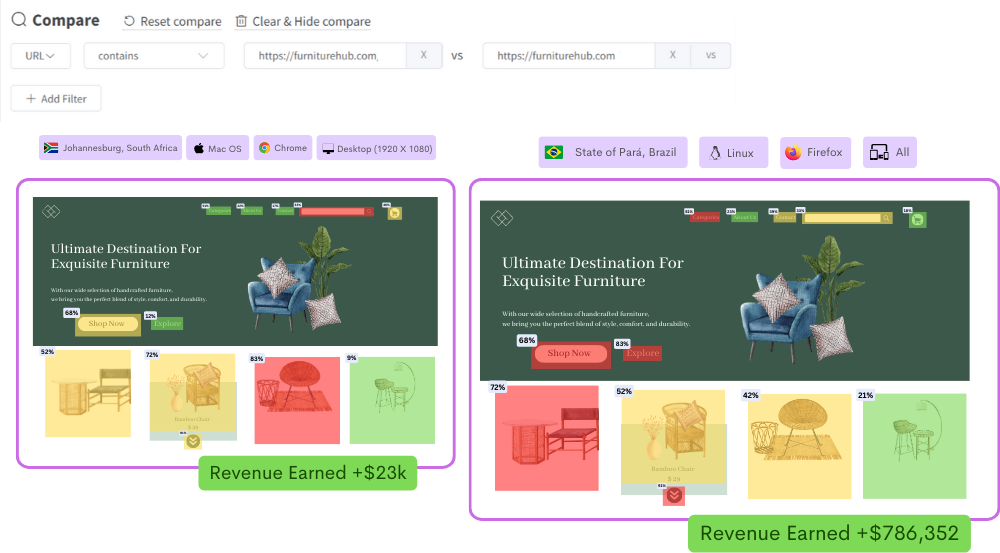 Uncover Product Page Engagement Patterns
In-depth analysis of product page engagement patterns to increase conversions, improve customer experience, and ultimately drive more revenue.
Engagement Insights: Insights on elements that receive the most clicks, attention, and engagement from users to improve the layout, design, and content of your product pages.
Reduce Friction: Discover areas where users hesitate or get stuck on your product pages, then make changes to reduce friction.
Boost Revenue: Find out which products are performing well and which are underperforming, then make data-driven decisions on pricing, promotion, and merchandising to maximize revenue.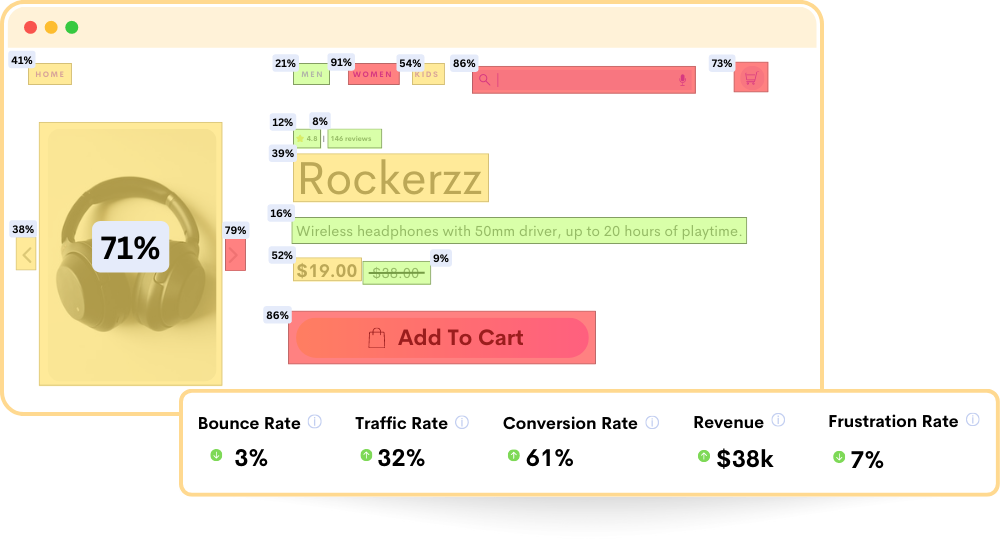 Reduced Bounce Rate and Improved CTAs
Identify elements that contribute to high bounce rates on your website to make changes for high engagement and make changes to improve CTA performance and increase conversions.
Identify Problematic Elements: Pinpoint areas of low and high engagement to make design changes to improve user experience.
Optimize Call To Action: Identify which CTAs are performing well and which are not to increase click-through rates and conversions.
Impactful Analytics: Track the impact of changes you make to your website, giving you the data you need to make informed decisions and continue to improve revenue over time.
Frequently Asked Questions
Heatmaps are visual representations of website user behavior that show which webpage areas are receiving the most engagement, such as clicks, scrolls, and mouse movements.

They provide valuable insights into user behavior and help website owners optimize their sites for improved user experience and increased conversions. Heatmaps can identify areas for improvement in website design and content.
What is the difference between a click heatmap and a scroll heatmap?
A click heatmap shows where users click on a website, while a scroll heatmap displays how far down the page users scroll.

Click heatmaps are useful for identifying popular website areas, while scroll heatmaps are helpful for understanding user engagement and identifying where users may lose interest or attention.
Are heatmaps only useful for e-commerce websites?
No, heatmaps are not only useful for e-commerce websites. While they are often used to analyze user behavior on product pages and checkout processes, heatmaps can be applied to any website to gain insights into user engagement, content performance, and website design. Heatmaps can be valuable tools for optimizing landing pages, blog posts, and even forms.
How do heatmaps help with website optimization?
Heatmaps help with website optimization by providing visual representations of user behavior and engagement on a website.

This data can be used to identify areas of high and low engagement, track user journeys, and make data-driven decisions on website layout, content, and functionality. By optimizing a website based on heatmap data, businesses can improve user experience, increase conversions, and ultimately drive revenue.

Heatmaps are not limited to e-commerce websites and can be used by any type of website to improve performance.
Are there any privacy concerns with using heatmaps to track user behavior on my website?
The main purpose of the session repla is to give a recorded website version from customers; the point of view to track errors increases the conversion rate and improves the website's user-friendly design.
Can heatmaps help me identify areas of my website that are distracting or irrelevant to users?
Yes, heatmaps can help identify website areas that are distracting or irrelevant to users.

By analyzing user behavior and engagement patterns on a webpage, heatmaps can highlight which elements receive the most attention and which are being ignored or overlooked.

This information can be used to make changes to the layout, design, and content of a webpage to optimize it for user engagement and improve conversions.
Stop guessing what your visitors want.
Playback everything visitors do on your site.
Watch visitor behavior
Watch movements of your visitor's using session recordings.
Notes, Segments and Tags
Add notes, segments and tag to your recording for easy identification.
Easy Installation
Installation is quick and simple using a javascript tarcking code.
Performance monitoring
Assess your site's user experience and uncover areas for improvement.
Unlimited team members
Invite all your team members and clients at no added cost!
Block IPs
Exclude tracking yourself, your team or clients by blocking their IPs.
Share
Share notes and website recordings to your fellow mates.
User Identify
Track users to identify which users are having bad user experience.
Audit Logs
See security audit logs for your projects and accounts.
Start using
ReplayBird

for free now.

Understand your customers in real-time.