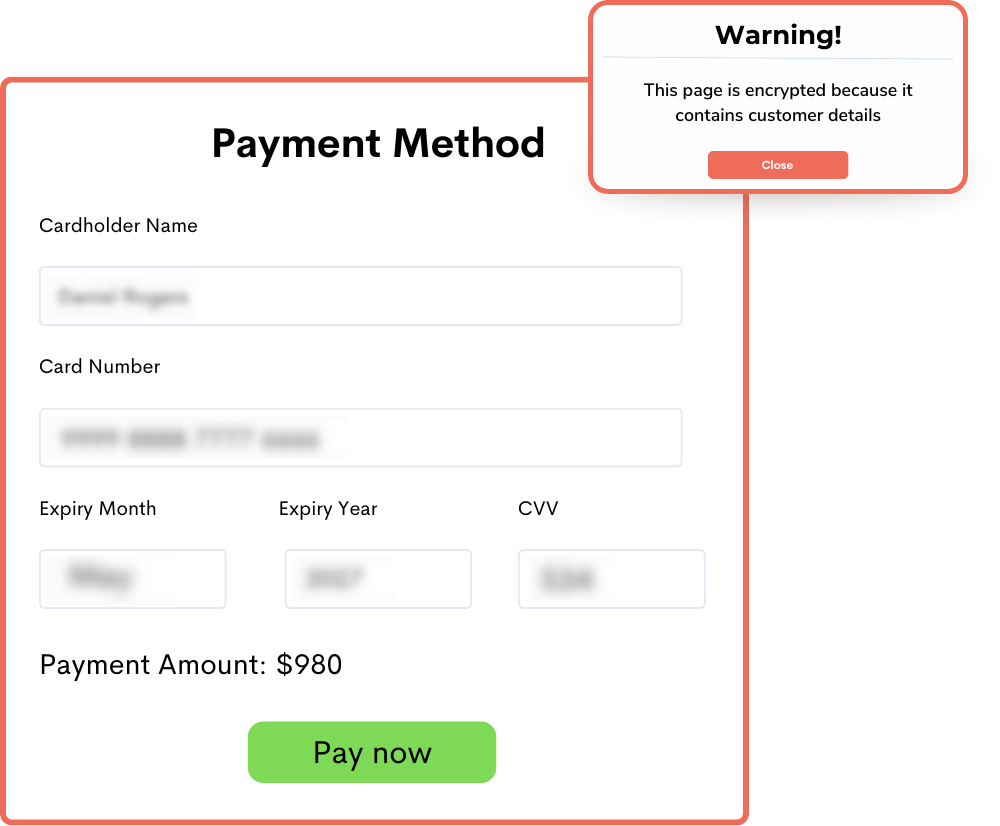 Data Security & Privacy
Protection and confidentiality of user information with robust security measures and adherence to industry best practices to safeguard the data entrusted to them.
Benefits
Save Time
Instantly capture and analyze behaviors as they happen in real-time.
Enhanced User Experience
Gain comprehensive customer insights for a complete understanding.
Boost Revenue
Identify emerging possibilities to drive revenue growth
Customer Satisfaction
Remove barriers and delight customers with effortless interactions.
Pinpoint and Resolve Bugs
Effectively address, troubleshoot, and resolve problems for prompt resolution.
Privacy-Driven Integration
Prioritize privacy and secure integration for driving continuous innovation.
Transparent Data Usage Policies
Comprehensive privacy policies and are provided with information on their rights regarding the handling of their personal data.
On-Premise Implementation for your company's Data Security and Privacy
Experience increased security and compliance by managing your data within your own infrastructure while seamlessly integrating with existing systems.
Increased Data Control Directly manage and secure their data according to their specific security policies and requirements.
Enhanced Privacy Your every data processing practice is aligned with industry-specific regulations GDPR.
Customized and Scalable Solutions based on their unique business requirements, data integration needs, and infrastructure capabilities.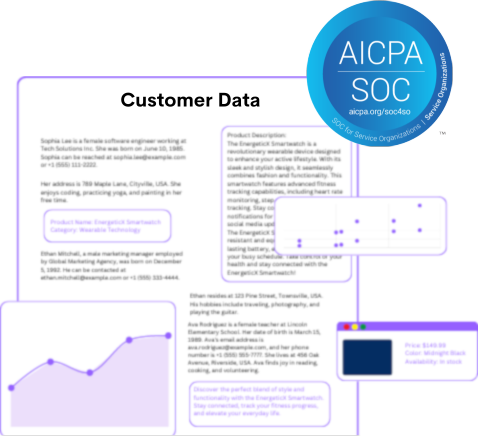 Unlock the Benefits of SOC 2
Deliver exceptional digital experiences while maintaining the highest data security, compliance, and privacy standards.
Increased Trust and Compliance: Safeguarded against unauthorized access, breaches, and other security risks, fostering trust and confidence in the platform.
Improved Risk Management: Effectively identify and mitigate potential risks through rigorous assessments and audits.
Transparent Data Handling Practices: Manage data with a transparent approach knowing how your user's data is being handled and utilized within the platform.
Remain Secure Under All Circumstances
With our robust security measures, we prioritize protecting our customers' data and maintaining high data security and privacy across our systems.
Encryption at Rest: Adds an extra layer of defense to your data and is rendered unreadable and unusable to anyone attempting to gain unapproved access.
Control What to Capture: We uphold privacy standards by excluding your customers' card details or confidential information from being stored or recorded within our systems.
Secured Traffic: Strengthened security with SSL to protect our customer's data and our customers' customer data from unauthorized access.
Frequently Asked Questions
A session is a period of time wherein a user interacts with a website. The session starts recording from the website's opening by a user from the user's perspective, and it can be replayed to watch the whole frequency of every gesture to show developers, marketers, and product managers how much time users spend on the website.
What is a session recording?
Session recording
is a software activity aimed at capturing website users' behavior. The recordings will contain all sorts of activities on the website, like the movement of the mouse, the number of taps and clicks, the scrolling action, the number of pages visited, which device it is being operated on and much more.
Can I watch my website visitors with the session replay tool?
Yes! That is what session replay tools are designed for. You can watch all your website visitors' user behavior. You can watch from their entry through a landing page and till they leave through an exit page.
Is ReplayBird difficult to set up?
No. It is totally easy to install and set up.
What is the main purpose of session replay?
The main purpose of the session replaY is to give a recorded website version from customers; the point of view to track errors increases the conversion rate and improves the website's user-friendly design.
What are session replays? How are they different from session recordings?
Session replay is the action of replaying the recorded session from a session replay tool to observe the user's behavior. Session recording and session replay are two different actions of the system. When the session is being recorded by the session recording tool in real-time it is called "session recording." After the recording part of the session, they are saved to replay anytime. The watching of the saved recordings is called session replay.
Is session recording legal?
It is legal to session record your users' behavior on your website.
Session recording software allows you to record your users' behavior. It includes data about each visitor to your websites, such as their IP addresses, referring sites, and site activity.
GDPR
allows session recording tools if they acquire client agreement. You must, though, ensure that your clients understand what these technologies accomplish and how they use their data.
How does session replay capture user experience?
Replay tools record data about users' activities with your website or application, such as the sites they visited, how long they remained, and what they clicked on. These technologies use this information to build anonymized versions of user sessions that your team can view on demand.
How do you analyze ReplayBird Session replay?
ReplayBird has filters for you to make your search easier. You can search by location, issue, error, time duration, and many more. Or you can even analyze your recorded session with segmentations.
Is it easy to get started with session replay?
Yes! All you have to do is to add a few lines of code into your website's code, as per the instructions.
1. First,
sign up
to ReplayBird for a free trial.
2. Secondly, Add your first and last name.
3. Place the URL of your website or web app in the field.
4. Choose where you want to install ReplayBird and get your Recording code or User ID code.
5. Verify installation.
Does ReplayBird have any session recordings storage limits?
You can access unlimited storage for up to 6 months for growth and premium plans and for 3 months for basic and growth plans.
Stop guessing what your visitors want.
Playback everything visitors do on your site.
Watch visitor behavior
Watch movements of your visitor's using session recordings.
Notes, Segments and Tags
Add notes, segments and tag to your recording for easy identification.
Easy Installation
Installation is quick and simple using a javascript tarcking code.
Performance monitoring
Assess your site's user experience and uncover areas for improvement.
Unlimited team members
Invite all your team members and clients at no added cost!
Block IPs
Exclude tracking yourself, your team or clients by blocking their IPs.
Share
Share notes and website recordings to your fellow mates.
User Identify
Track users to identify which users are having bad user experience.
Audit Logs
See security audit logs for your projects and accounts.
Start using
ReplayBird

for free now.

Understand your customers in real-time.